Your engine for answers.
Take back time and control.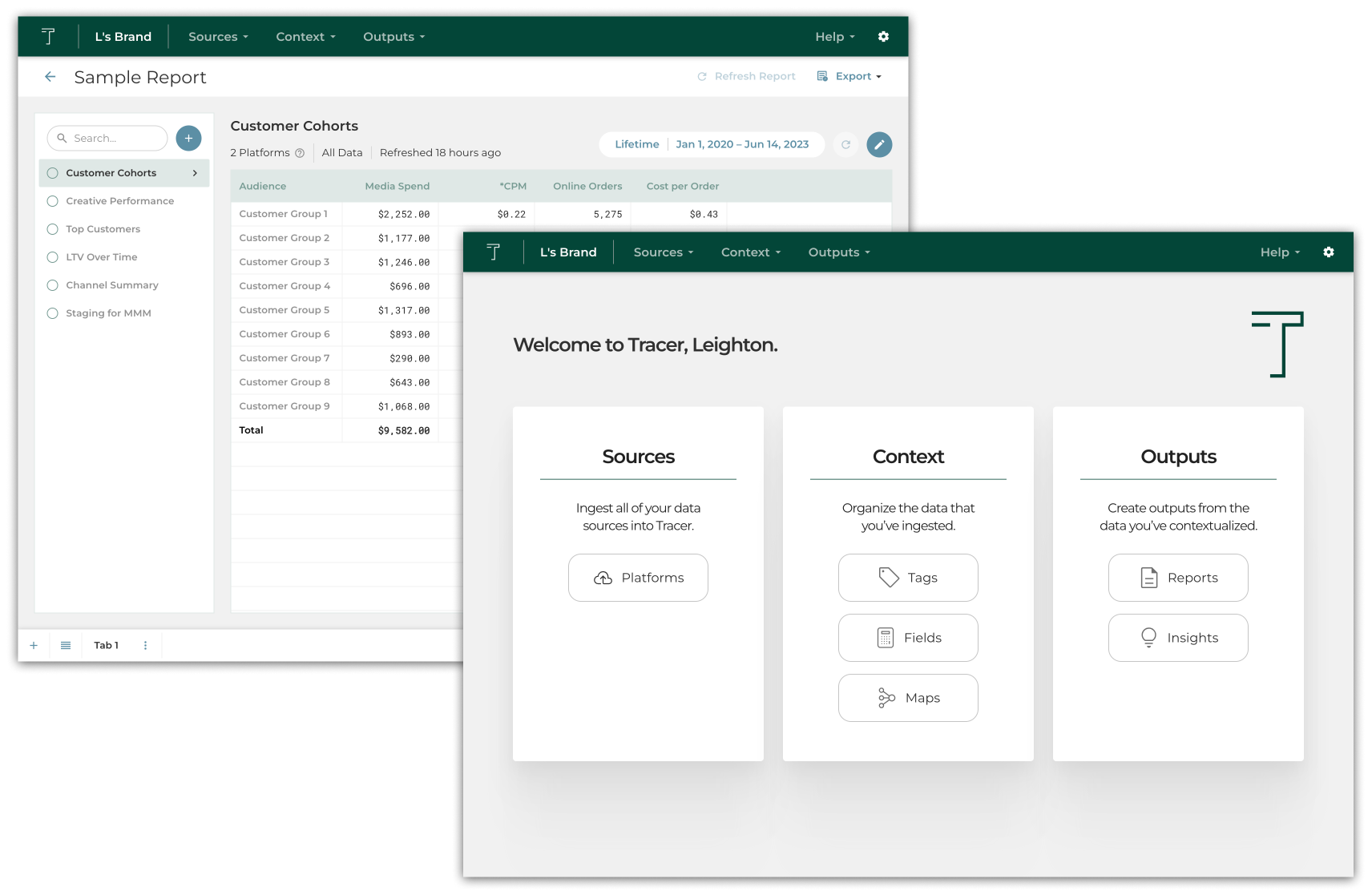 We are more than just another data processing platform. We bridge the entire gap between your data and the questions you want answered. And we deliver those answers wherever you need them, in the format you want, as often as you'd like.
What we offer
A pilot & a plane
We see a competitive landscape focused on specialization, often in the form of data-driven software or consulting. We see this as buying either a pilot OR a plane. You need both to be successful.

At Tracer, we offer technology and consulting together. It's the combination of a pilot AND a plane.
Tracer Client Success
The intellectual horsepower to navigate data sources and help you connect more dots. Client Success is your "pilot".
Tracer Platform
A browser-based system to manipulate, report on and analyze all of your data. The technology becomes your "plane".
How we do it
The 3 elements of data strategy
You need all three. It's very difficult to be successful with just one of these elements in play. This is what makes our approach unique and our results more significant.
People
Traditionally, the problem is that the engineering teams don't have enough business context, and the business teams don't understand the necessary technology. We bridge the gap. Our team can speak both languages.
Process
We work with our clients and their partners to ensure that there is a long term process to collect and manage data. Without doing so, it's garbage in / garbage out, no matter how good your technology.
Product
Product is what allows our process and people to scale. It's how one of our analysts can out produce entire analytics teams. It's how a trained pilot can fly so many planes.
Our technology
We prioritize what's proprietary
These building blocks to the Tracer platform separate us from others that work in data. These factors uniquely position our platform for long-term success and increased value creation for our client partners, without re-creating the wheel where we don't need to.
Sources
Your entire ecosystem of data sources in one place, across all of your platforms, partners and markets. We ingest everything, from APIs, to emails, to other aggregated sources. We play nicely with every stack.
Context
Connections: Automated rules to configure how all of your sources talk to each other. Having all your data sources in one place is useless if you can't connect the dots.
Tagging: Intelligently organize your data into the constructs relevant to your business, so you can analyze performance within the context of what actually matters.
Output
Visualization tools are a commodity, but real answers are not. Our output is digestible, actionable, and impactful because its been properly tagged and connected. It's also compatible with the BI & Visualization tools you already use.